THE STORE WITH MODERN, OLD, "UNUSUAL" AND OBSOLETE ITEMS!


In Business since 1933, located just South of Downtown Los Angeles, we have been providing customers with not only hard to find vintage fixtures and hardware, but also with the knowledge of how to repair your vintage bathroom fixtures. We speacialize in "Hard" to find vintage plumbing fixtures, parts and custom REGLAZING, with our exclusive system. We also do complete restorations of your old faucets and fixtures. We are also the main source for our friends in HOLLYWOOD serving as a Prop. House, doing plumbing rentals for the last 15 Years.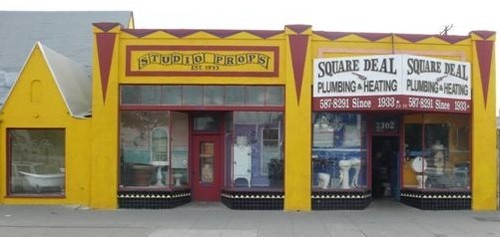 VINTAGE FIXTURES
Come into our store to see our endless inventory of vintage fixtures. Our inventory is everchanging, due to the fact that they are one of a kind items.
VINTAGE TOILETS, PEDESTAL SINKS, CLAWFOOT TUBS, HARD TO FIND STEMS, OLD TANK LIDS, PORCELAIN HANDLES, OLD FAUCET PARTS, OBSOLETE COLOR TANK LIDS! AND MUCH MORE!!
Its All Here for you! We will provide you with a unique bathroom experience with our friendly, knowledgeable staff.
Complete restoration and repair of your vintage faucets and fixtures!
Hard to find plumbing parts!
New, replica, restored, and vintage plumbing fixtures!
We fix your old broken porcelain pieces!
2302 E. Florence Ave.
Huntington Park, CA 90255
P. 323.587.8291 F 323.587.0422
Monday through Saturday
8:00 a.m - 5:00 p.m.
REGLAZING
We are the "BEST IN THE WEST" when it comes to our Exclusive Reglazing System. Don't be fooled by your fly by night reglazers. Our system is very methodical when it comes to your Vintage Fixtures. No fixture is too damaged. Chips, Cracks, Even Broken in Half in no problem! WE REPAIR YOUR BROKEN FIXTURES! Reglazing is a five step process, which starts by dulling the existing porcelain, then we fill and sand all you major chips, now comes a first primer, once primed we fill in all the "pinholes" not seen until primer is put on. Once filled a second time,we put a final primer on it, then comes the actual reglazing of the fixture. It is a speacial type of Paint that we use, that will not peel, crackle, or turn brittle on you. We will put up our Reglazing Items up against anyone. This is why other Vintage Dealers SEND US Their toilets, tubs, sinks, towel bars, soap dishes, etc.....to reglaze, because we are simply the best!
CLICK HERE FOR MORE PICTURES!
HOLLYWOOD PROP. RENTALS
For some reason everyone wants to be in Movies! Same goes for our Vintage Bathroom Fixtures. Every One on their sites claim to have a "Hollywood Connection." We are the Source for Hollywood. Be it Movies, Commercials, Videos, Magazine Ads, or Plays, Set Decorators know Square Deal Plumbing. Look close at a movie next time and guranteed you will see our work! Come into our store for an experience that will leave you breathless.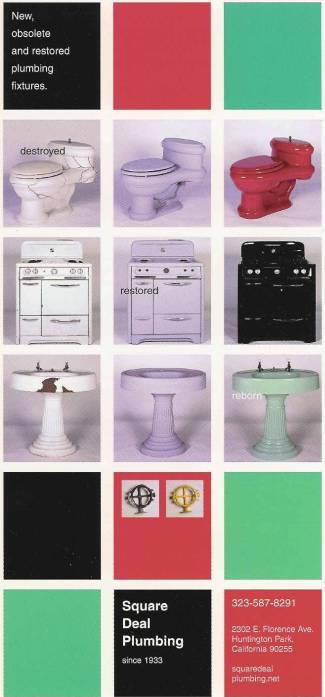 BRING YOUR VINTAGE FIXTURES BACK TO LIFE!
Vintage colored fixture?
NO PROBLEM, WE WILL MATCH THE COLOR!






>